An Interview with Mona Golabek
From Jewish Renaissance by Judi Herman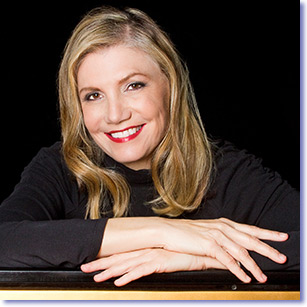 What made you decide to make the book into a one-woman play?
"My path crossed with Hershey Felder, quite a genius in his particular genre and he took me under his wing, believed in the story and adapted the book for the stage. He helped me to find an inner voice, to inhabit the story and the characters and become my mother in a way – I do become her, imagining her in that story and taking the audience on that journey."
It's extraordinary to play your own mother, particularly in this circumstance with this very emotional story – is that quite hard for you?
"It's a very powerful statement to make and people ask me how I'm able to do this night after night. My answer is, this is a privilege and I think it's become my destiny in a way. When I was a little girl my mother taught me piano and she always told me each piece of music tells a story and in those lessons she told me she told me the story of how she got out on that train and grew up in Willesden Green as a Jewish refugee and how the kindness of that community and the British people was the reason that I, as a little child, was alive. They saved my life, these people! So I'm coming back to London to say thank you. I'm bringing the story home."
Was the Willesden Lane hostel Jewish, as the matron was a Mrs Cohen, and were all the children Jewish?
"Yes all the children in the hostel were Jewish. There were all sorts of kids, 30 of them from different parts of Europe."
So is the play a dramatisation of the book?
"It's an adaptation. The book follows many of the characters who landed up in Willesden Lane. My mother of course was the primary character. The play at 90 minutes is a condensation, with strong elements of music."
To me the idea of the music, which your mother handed on to you, sounds so powerful. You are also a very accomplished pianist, which you've inherited from her. How did you choose the pieces that you use in the show?
"The music was very much integral to what my mother learned along the way. So for example the Grieg Piano concerto in A Minor that is so important in this show, this story, was the piece she dreamed of making her debut with when she was a little girl on the way to her piano lessons."
The Steinway that you're playing in the show is spectacular – is it a special family Steinway?
"All Steinways are special to perform on, though it's not a special instrument from that time period. It's a great honour for me to be a Steinway artist. This is a kind of love letter to the piano and to Steinway. Because my mother was a poor refugee girl, she dreamed of playing, making her debut, on a Steinway. She went to hear Dame Myra Hess playing on a Steinway and, that was an extraordinary moment for her. She talked to me about going to hear (Dame) Myra Hess in the war years all the time. She went to hear Clifford Curzon at the Wigmore Hall and Sir John Barbirolli."
As well the stage show, you have developed a documentary film from your book, is that right?
"Yes, that's right. We have been shooting I am a Pianist all round America in many different cities where I bring this story to young students. They read the book and create projects around it and experience the show and we've been filming that and getting student and teacher reactions, bringing them the story of a Jewish teenager of 70 years ago, which we have found very relevant to young people today."
Let's go back to the play and the relationships you show in it. You never met your grandmother and yet you must feel you know her.
"Yes, I know her through my mother, and my grandmother figures in the show."
So you play her too, and your mother's sisters, your aunts… Tell me about your father.
"That would be giving too much about the show. My mother was torn between two men…"
So there's a lot more to it than just the story of the music. You narrate the story and play the men too?
"I do jump into some characters. The hardest thing for me is my accent. My mother had the most beautiful accent – British tinged with Viennese. I always said she was a cross between English tea and Viennese Sachertorte! I hope the British people will forgive me for my British accent – and my German accent. I hope they will understand that I'm just a daughter and a concert pianist coming back to say thank you for everything. That's really what this is about."