YOUR GIFT IS APPRECIATED


The Chai Society is an exclusive group of donors who, through their generosity, will breathe continuing life into the HGJTC. By becoming part of this initiative, you are contributing to the only professional Jewish Theatre Company in Toronto. You can help to support a medium that can educate - not simply our own, but the greater community - inspire and celebrate the arts across generations, while providing a positive spotlight on the Jewish story and reflecting pride in our heritage. Our theatre company has been made a reality by the Harold Green family. Now we invite you and your family to participate in building the Canadian voice of Jewish theatre.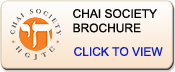 For further information, please call:
General Manager Matt Birnbaum 416.932.9995 x 223



YOUR BENEFITS
Invitation to exclusive Salon Evenings with major guest artists (exciting new opportunity to mingle with the "stars")
Special VIP Receptions on Opening Nights to personally meet the cast members
Six Opening Night subscriptions for 3 years (Best Seats)
2 Families (4 subscriptions each)
3 Families (2 subscriptions each)
4 Families (2 subscriptions each)
Custom-designed pin for members
Donor recognition board in theatre lobby to be recognized in perpetuity
Opportunity to join the cast on first day of rehearsal
Recognition in all publicity and programmes as a Founding Member of the Chai Society
Backstage Tours available
Complimentary tickets available to Conversations on the Green (when available)
Invitation to Pre-Announcement of Next Season with Artistic Co-Directors, David and Avery
CHAI SOCIETY MEMBERS AS OF TODAY
The Harold Green Family, Miriam, Eric, Cary and Ronda, Kevin and Lisa, Robin Green and Jamie Purdon
The Azrieli Foundation
Anna and Leslie Dan
Toby and Saul Feldberg
Sheila and Murray Goldman
The Families of David Green and Daphne Wagner, Karen Green and George Fischer, Donna Green and Michael Sanderson, Lindy Green and Barry & Laurie Green
Alan Greenberg
Debbie and Warren Kimel
Metropia
The Robbins Family
Rosalie and Isadore Sharp
Shanitha Kachan and Gerald Sheff
Fran and Edward Sonshine
Eric and Leah Weisz and Family - Effort Trust
Judy Klarman and Eric Bresler
Anonymous
Donna and Barry Bank and Barbara and Henry Bank
Sarah and Morris Perlis and Hinda and Allan Silber
Elly Barlin-Daniels and Peter Daniels
Dene and Glenn Cohen
Annalee and Jeff Wagman
Judi and Marshall Egelnick
Joy Kaufman and Eric Cohen
CHAI SALON EVENINGS

This exclusive group will have access to live performances in private homes with well-known celebrities from Toronto and beyond. Whether musical, dramatic or literary, the salon evenings promise to be a unique inside look at theatre. The first evening was a salon with the Jersey Boys and Theresa Tovah. The spring salon promises to be equally inspirational!


WHY SUPPORT US?
Ordained by the Harold Green Family as the Canadian voice of Jewish theatre, our company is the only one of its kind to exist in Toronto, and one of two in Canada.
The Chai Society is being inaugurated in support of the mission of the Harold Green Jewish Theatre Company. Members of this exclusive group will help give "chai" or life to our theatre company and help support the rich history of the Jewish community, and our city as a whole.
Your gift will help create a bridge to sustainability, allow us to pilot new programs for youth and seniors, and help nurture and discover new Jewish Canadian playwrights


IMPACT OF YOUR GIFT
A portion of your gift will support the operating costs of theatre and allow us to build a bridge to sustainability. Ticket prices do not cover all the costs associated with creating live theatre. Examples: rising costs of venues, marketing for theatre and travel for artists.
Our Jewish values of honouring our seniors and educating our children are hallmarks of our mission. With your gift, we will pilot exciting programs with schools, both public and private, and work to bring theatre to places such as Baycrest and other retirement homes. To date we have been able to supplement a number of tickets for these populations, but we would like to establish youth programs on a continuous basis that will allow the next generation to taste Jewish art and explore the potential of our culture through a personal connection with drama and live theatre. Through programs such as In the Beginning: A Jewish Playwright's Festival, we will encourage and discover new Jewish Canadian playwrights.
Because we plan on being here for the long term, we also wish to strategically "save for tomorrow", to ensure that programs started today will endure.
YOU'RE SPECIAL TO US

It takes a very special person to support the arts. There are so many worthy causes, but we recognize that the arts are essential to preserving our rich culture and history. When you are part of the Chai Society, you are contributing to the only professional Jewish theatre company in Toronto. You can help us to sustain the vision, celebrate the arts and share our wonderful stories with the world.


SHARE IN OUR HISTORY AND HELP PROMOTE OUR FUTURE
Fighting the negative picture of Israel in the news today
Telling the story... good theatre has the ability to have a tremendous impact on community
Passing on traditions through the shared experience of theatre
Exploring the arts through a Jewish viewpoint

THE MISSION

Our goal is to secure 36 "chai" (life sustaining) gifts of $36,000, payable over 3 years to the Harold Green Jewish Theatre Company, and thereby raise over one million dollars, which will strengthen our foundation.


HOW TO GIVE
One donor may make the commitment
A family gift of one or more families
Groups of people may come together to make the gift
Corporate sponsorships

JOIN NOW!

You have the opportunity to be a member of the Chai Society, an exclusive and important group of donors, who, through their generosity, will take this company to the next level. You can be part of the transition that will sustain our vision and forever be recognized for this meaningful contribution.

For further information, please call:
General Manager Matt Birnbaum 416.932.9995 x 223